We had our Volunteer's Award Evening where we celebrated our incredible volunteers who give up their time to help adults with learning disabilities.
The Deputy Lord Lieutenant of Essex, Nigel Spencer MBE kindly came to present all the awards to the dedicated team of volunteers.
First up was Mary, she's a volunteer Trustee, the Treasurer and as many of you know also runs the Charity Shops. She has volunteered at Acorn Village for a whopping 44 years starting off in a little caravan onsite.
We think she's absolutely incredible and an inspiration to us all.
Next we celebrated our dedicated Trustee Volunteers at the Award Evening.
On paper our Voluntary Board of Trustees is responsible for the governance and strategy of Acorn Village.
In practice they do so much more, 
– Strategic Decision Makers
– Advice givers – they meet with each department to pass on their invaluable and varied knowledge
– Word spreaders – they speak to friends, family, work colleagues, acquaintances spreading the need for support to help adults with learning disabilities
– Carers – whether they are parents or family of residents and tenants or general supporters, as soon as they step into Acorn they speak directly to the residents and tenants, listening to what they have to say and ensuring we are all living up to the Acorn motto of 'Life is for Living'
– Faith Supporters – They actively support the residents and tenants to follow their own individual faiths no matter what they choose and support them to do this.
– Fundraisers – Through their connections they have persuaded others to run events, donate money or goods and even put on their own fundraising events or been at the helm of ones at Acorn
– Responsibilities – Not to be underestimated, they are responsible for what happens at Acorn Village, with nearly 200 staff and approximately 150 volunteers this is no mean feat.
The wonderful Manningtree & Onsite Shop Volunteers above were next on the list, they have volunteered an incredible 215 years of service between them.
The Shop volunteers role consists of:
– Customer Service
– Socialising – we've often been told the difference between our shops and other charity shops is the welcome people get as they enter and the help & friendliness received
– Pricing
– Cleaning
– Sorting through the donations given there and then
– Restocking and rotating
We think they do an incredible job and are very lucky to have them all.
The wonderful shed volunteers have racked up an amazing 46 years between them all.
The volunteers role consists of sorting through the sheds
Items include all sorts of occasional horrors – dirty tissues, underwear, actual bags of rubbish.
Managing accidental donations – drivers licenses, rings, bus passes and also dealing with some rather unmentionable and bizarre items.
Not forgetting ensuring the shops are kept stocked up with good, saleable items as well as selling items from the sheds on a Monday morning.
We're so grateful for your saleable donated items & it's thanks to these volunteers they get onto the shelves of the charity shop or passed on to be used internally.
A huge thank you to every one of them!!
Thank you so much to the Creative Craft Centre Volunteers who we celebrated with at the Volunteer Long Service Awards.
The Craft Centre Volunteer Roles includes:
– Holding a monthly singing & music group (what a talented volunteer!!)
– Driving 
– Assisting with media, art, textiles and craft
– Volunteering in the Coffee Shop
Thank you to all of them, if you'd like to be part of the creative team of volunteers please get in touch.
We're lucky we have some wonderful organisations who support Acorn and we couldn't fundraise nearly as much without them all.
However at the Volunteers Award we wanted to to celebrate some of the individuals within these organisations who continually go above and beyond with their time to support adults with learning disabilities.
A huge thank you to them for all the additional they do to support Acorn Village..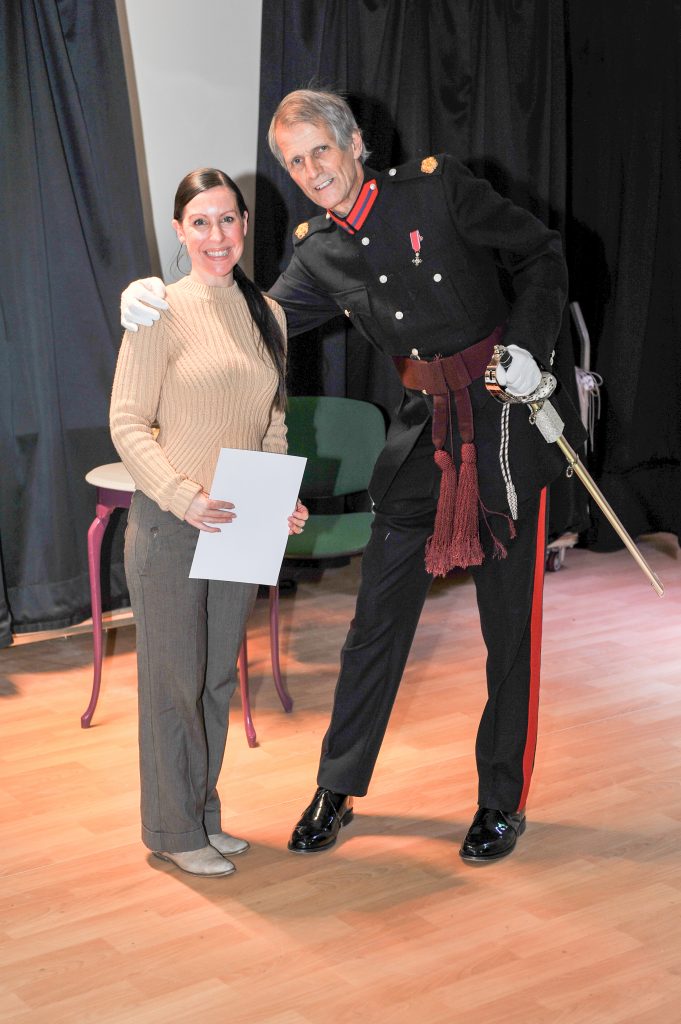 Events have got bigger and bigger over the years and that's only down to the incredible event's volunteers..
It starts months before the event, a kind offer of lending equipment – lighting, sound, microphones, walkie talkies, snow machines, bubble machines, projectors, printing t-shirts, badges, bookmarks, toys, sweetcarts and candy floss machines including the sweets and the sugar……and that's just two of the volunteers.
Straw bales, horse-boxes, marquees……fire engines, steam engines, first aid, wine, chocolate, hampers, prizes…..performing, dressing up – Mickey & Minnie, Father Christmas, Little Miss Christmas, Elves the list goes on and on… and on….
And the only reason this list goes on is down to the kindness and generosity of those willing to give up their time to help others.
Then there's the volunteers who not only help onsite but also run their own events.
Then there's the preparation for the event, the event itself (how many of you volunteers have been out in the pouring rain but still with smiles on your faces) clearing up after the event, the time when everyone is soo tired but there's still so much to do….
In total there are over 100 event volunteers!
No event would happen without you and we cannot thank you enough.
The last awards of the evening went to the E-bay volunteers.
This incredible duo work tirelessly online to raise funds to help adults with learning disabilities.
They also work very closely with the Fundraising Team and are always there to help them in times of need.
Between them they have raised a whopping £20,000 online over the last two years selling donated goods as well as all the other bits they do to support the charity including running the books & records side of the Manningtree Charity Shop.
Like all of the volunteers, we are so lucky to have their support.
So many of the volunteers do more than what we've gone through in this newsletter and those extra bits all add up, fixing broken watches, asking a relative to do an ironman for Acorn, giving up a day's work or booked annual leave to volunteer, sharing their skills with others, being prepared to use their skills to help others, made cushions or bunting to make the shops look nice or to help residents, getting extra donations from friends, dragging friends and family in to help, singing for free when they could be paid, spreading the need for support for the adults with learning disabilities at Acorn Village and managing to get additional finance as well as getting other groups to support.
We cannot thank them all enough, each and every one of them for giving up the biggest and most precious gift anyone has. The gift of time.
All the volunteers who have given up their time weekly or monthly for 5 years or more were presented with a silver lapel pin, all who have volunteered for 10 years or more received a gold lapel pin.
If you have been inspired by our incredible volunteers and would like to help, please get in contact.