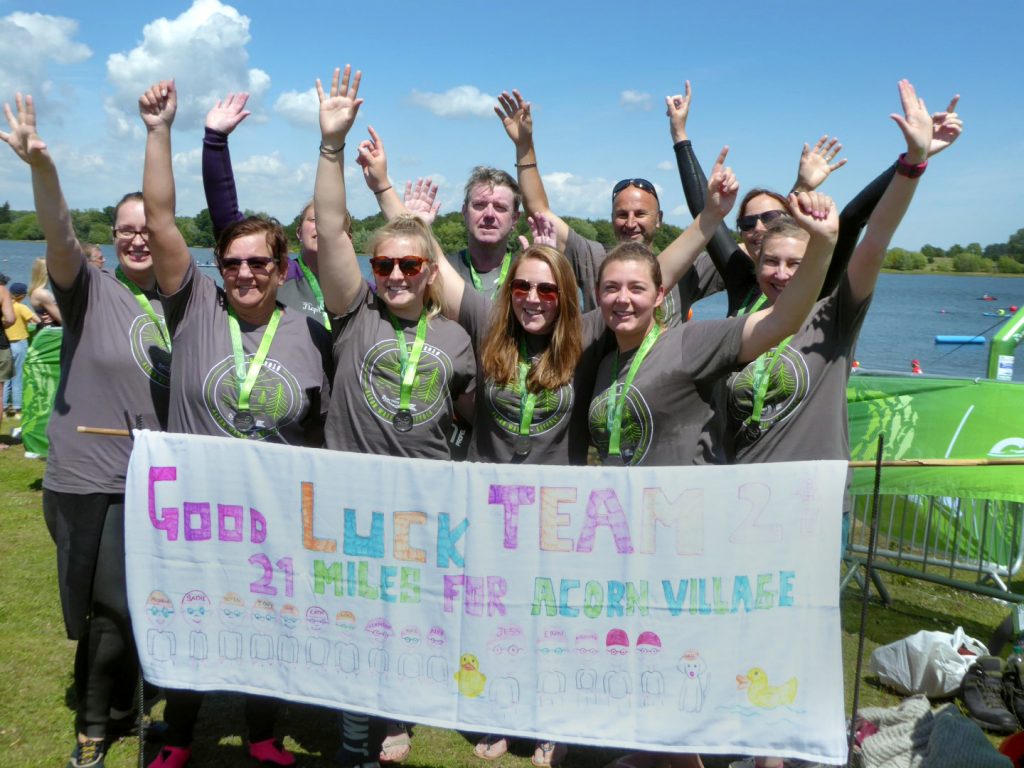 A Team of 15 decided back in January that they wanted to do something that would challenge them both physically and mentally to help raise funds for adults with learning disabilities… and so Team21 was created
They decided to attempt to swim the equivalent of the English Channel (21 miles) in a day between them in open water. The Great East Swim happens at Alton Water each year and was the perfect place to make this happen.
They started training in Dovercourt pool until the river and sea warmed up slightly and then moved to the Stour River practicing in a very chilly 11 degrees meeting over-friendly (!) swans, geese and extremely inquisitive cows not to mention the unmentionables that occasionally floated past.
They also helped clean up whilst training, picking up bottles, crisp packets and all sorts of rubbish that was in the Stour River. One of the team's four-legged friend who thinks she's part seal joined them each time, often mistaking their swim hats for a ball adding to the challenges but definitely helping to keep smiles on their faces.
We asked a few of them for some quotes before the event…
Michelle CEO- 'As someone who isn't that keen on the water, being splashed or the cold, this is a huge personal challenge!  However I am excited about joining the fantastic Team 21 to take part in the Great East Swim.  I feel passionate about our motto here at Acorn Village of 'Life is for Living' and it is vital fundraising such as this that enables us to empower adults with learning disabilities to live their life to the fullest'
Louise  – 'Great things are done by a series of small things brought together' and that's exactly what Team21 are about, bringing together 21miles of open water swimming collectively to raise funds for adults with learning disabilities.
Tony Johnson – 'We were told by Louise in January that she was doing a 1 mile swim in Alton Water in June, I thought it was great idea so I booked myself and my wife Dayle Johnson onto the swim. Sadly I booked Dayle in without actually discussing it with her, which gave her quite a shock. So we have now been river swimming in the Stour since February and water temperatures of just 6 degrees Celsius . The thought of being far from shore in a deep lake is really quite frightening but we knew that it would be for a very worthy cause Acorn Village.'
Jess – 'It's going to be really challenging, I've never swam 2 miles before let alone in open water, but the charity means so much to me and the thought of the people who will benefit will hopefully push us as a team through.'
The day itself came round sooner than they all hoped, could they do it…. 2 members were taking on the very impressive 5k (equivalent of 200 x 25m lengths), others tackled the intense 2miles (equivalent of 125 x 25m lengths) and the others faced the heroic mile (equivalent of 64 x 25m lengths). Team members consisted of those who had been open water swimming before, those who had only swam in a pool and those who hadn't swam in a pool for over 10years let alone open water!
Despite nerves, a broken wetsuit and a cut foot that morning they all not only took part, but every one of them completed their own individual goal. This meant they had smashed their target of 21 miles and had actually swam 25miles.
To give you an idea of how far this is… to drive the equivalent you would have to start at Acorn Village, drive to the port of Harwich then you would have to turn around and come all the way back again to achieve their mileage!!!! Something to contemplate next time you are driving that way.
We're so proud of every single one of them for smashing their goal. Between them they have raised over £3600 from the challenge, with more still coming in.
An incredible amount which will make such a difference to enhancing the lives of adults with learning disabilities.
Team21 consisted of:
5k – Tori (Volunteer) & Ash (Staff Home Manager)
2 Miles – Alice (Staff Support Worker), Angenita (Staff Creative Craft Centre), Erin (Supporter & Daughter of Ash), Geraldine (Volunteer), Jess (Staff Fundraising), Kate (Staff Fundraising),
1 Mile – Cath (Volunteer), Dayle (Supporter), Louise (Staff Training Dept), Michelle (Staff CEO), Sadie (Staff Accountant), Tony (Supporter), Will (Staff Support Worker)
Oh and just to add to the excitement of the day, Jess had an unexpected additional celebration as her boyfriend Phil decided that she truly is one in a million and proposed to her…. she said yes!!
Michelle Cook CEO 'This was probably the hardest physical challenge I've ever completed and there were definitely times during the swim that I thought I had made a mistake!! However, the sense of achievement was fantastic and I was incredibly proud to be part of the Team21. A huge thank you to all of our supporters on the day and the generous donations that will provide vital funds for adults with learning disabilities.'
Jessica Mellor ' I'm so proud of the whole team, to complete over 25miles between 15 of us was such an achievement and then to be proposed to at the end…. Well it was completely unexpected!! Thank you to all those who made this day unforgettable, the sponsors, the supporters and my fiancée'
Have you been inspired by this incredible team?
Become an Acorn Hero and challenge yourself to help adults with learning disabilities.
E-mail supportus@acornvillages.com
Alternatively if you wanted to sponsor them but didn't get a chance to, why not help with the latest appeal for a Sensory Settee and put 'Team21' in the reference.